Middlefield Banc Corp.
Nasdaq: MBCN
Corporate Overview
Middlefield Banc Corp. provides personal and commercial banking services to customers in nine Ohio counties, and is continually recognized throughout its communities for its history of strong financial performance. This performance is a direct reflection of the company's conservative operating approach and fundamental belief in safe and sound banking practices.
---
Creating Shareholder Value
Middlefield has a history of creating value for its shareholders. Middlefield has never reported a quarterly loss, and during the last recession, maintained its dividend amount. In addition, the company focuses on maximizing profitability and is continually recognized as one of the most profitable community banks in the U.S.
Creating a Growth Platform
Over the past three years, Middlefield has invested in creating an infrastructure to support a bank with $1.5 billion in assets. These investments were focused on four key areas:
Adding talent across all levels of the organization,
Enhancing the company's financial products and services.
Improving the ways customers interact with the Bank
Enhancing the Bank's systems and security.
As a result of the growth platform the company has created, management believes there are significant expansion opportunities in both of its Ohio markets.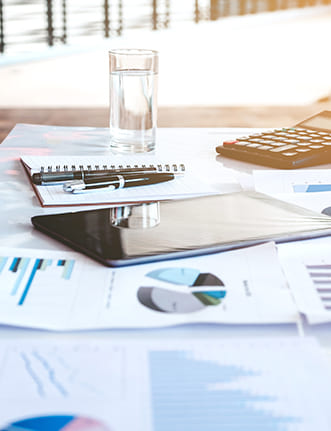 Report of Organizational
Actions Affecting Basic of Securities
Download Document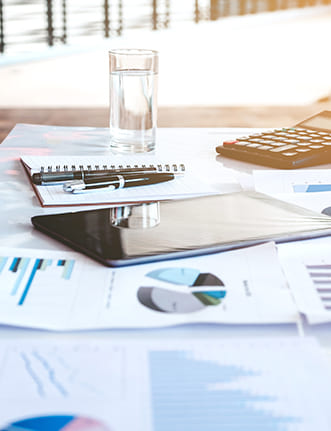 Download Document
---

$48.20
Stock Price

$155 Mil.
Market Cap

$1,106 Mil. Assets

$1.08 (2.2%)
Div & Yield

$3.12 2017 EPS
15.5x P/2017 EPS
---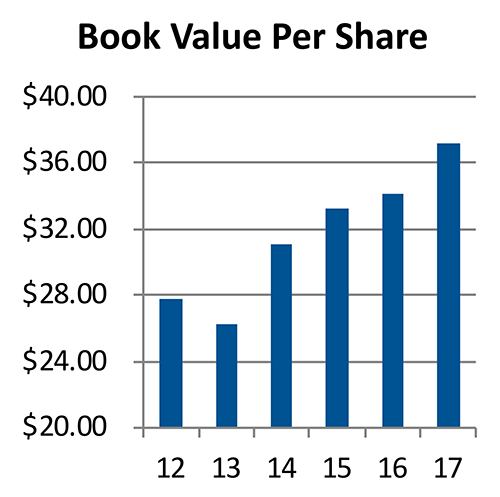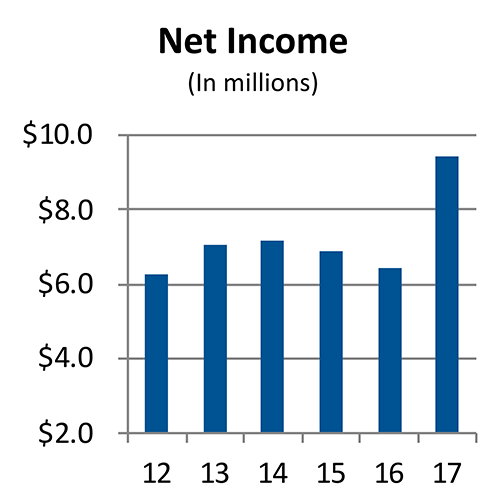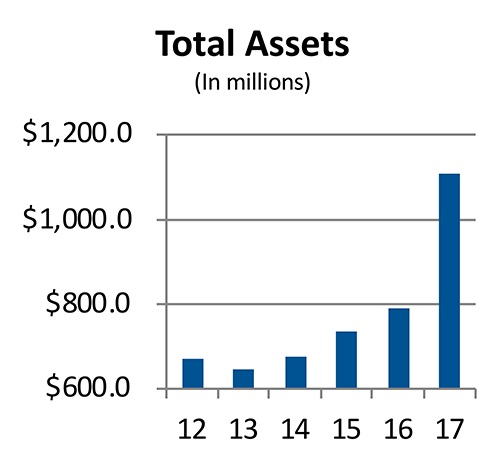 Growth Drivers
Expand footprint: new LPO in Mentor, OH (October 2015), new branch in Sunbury, OH (October 2016), and new Central Ohio branch planned for Powell, OH (2018)
Add talent: new loan officers hired in 2018
Increase fee based income: focused secondary mortgage offering
Liberty Acquisition: The $40.8 million acquisition of Liberty Bank closed in January 2017, and was successfully integrated into Middlefield's growing platform
---
Growing Loan Portfolio
The company lends to commercial and residential customers within its market areas. The loan portfolio consists primarily of commercial and residential mortgages, with no national or subprime lending. From 2007 through 2017, Middlefield's loan portfolio has grown at a compound annual growth rate of 11.6%. The significant growth Middlefield has experienced reflects increased productivity from its new lenders, business managers and the growing Mentor LPO, as well as the Liberty acquisition.
Total Loans = $923.2 million at December 31, 2017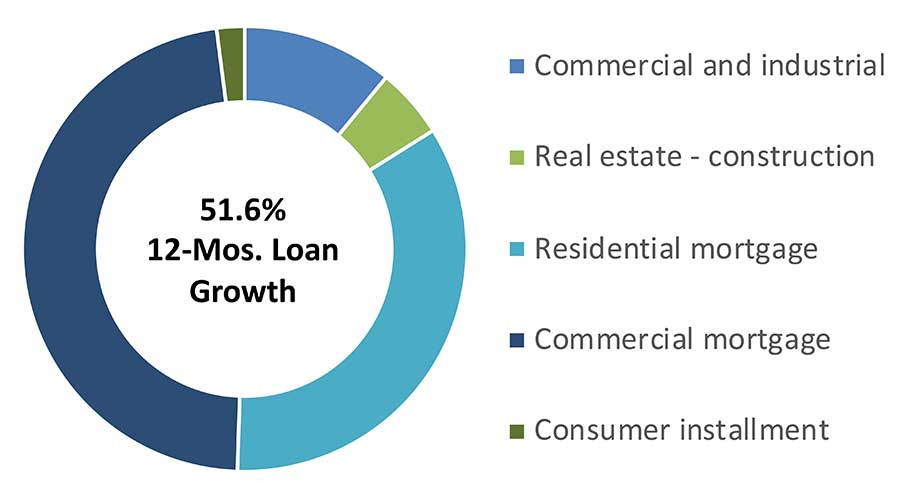 Excellent Asset Quality and Strong Capital Levels
| Metric | FY17 | FY16 | FY15 | FY14 |
| --- | --- | --- | --- | --- |
| Nonperforming loans to total loans | 1.45% | 1.98% | 1.92% | 1.92% |
| Nonperforming assets to total assets | 1.23% | 1.65% | 1.59% | 1.72% |
| Allowance for loan losses to total loans | 0.78% | 1.08% | 1.20% | 1.45% |
| Net charge-off ratio - annualized | 0.05% | 0.06% | 0.16% | 0.13% |
| Equity to assets at period end | 10.83% | 9.77% | 8.48% | 9.43% |
This profile is for information purposes only. No statement or expression of opinion, or any other matter herein, directly or indirectly, is an offer, solicitation or recommendation to buy or sell this security. Investors should consult a professional investment adviser prior to making any investment decision. Statements contained in this profile that are not historical facts are forward-looking statements that involve risks and uncertainties. For a summary of important factors that could cause Middlefield Banc Corp.'s results to differ materially from those projected in, or inferred by, the forward-looking statements, please refer to the Company's Annual Report on Form 10-K or quarterly report on Form 10-Q.
---
Shareholder Services
American Stock Transfer & Trust Company
(Written Correspondence)
American Stock Transfer & Trust Company
P.O. Box 922
Wall Street Station
New York, NY 10269-0560

Customer Service Hours
Automated and online support is available 24 hours a day, 365 days a year, or speak to a personal representative from
Monday - Thursday, 8:00 a.m. to 7:00 p.m.
Friday, 8:00 a.m. to 5:00 p.m. EST.