6 Ways to Save This Spring
Posted On: May 3, 2021 by The Middlefield Banking Company in: Budget Savings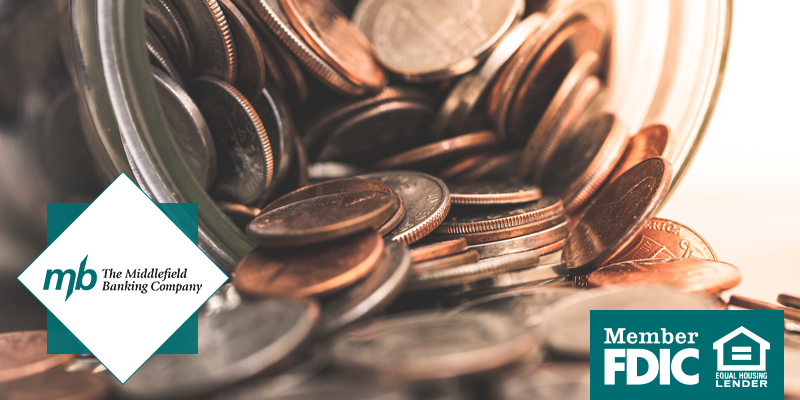 With spring comes a freshness that everyone enjoys. There's different weather, new things are happening and the winter blues begin to fade away. Spring also brings spring cleaning! The Middlefield Banking Co. wants to focus on different actions you can take to spring clean the way you save. By giving you six ways to save this spring, we hope you can begin to enhance your financial journey.
1. Find Ways to Go Fee Free
If certain fees suit your needs, that is okay. You don't have to go fee free for everything, but it doesn't hurt to see if there are some different options for a few items. When it comes to savings and checking accounts for example, there are many solutions that don't require fees. If that works for you, then open an account like that. Another example would be credit cards. Find a credit card that offers no fees and other rewards to help you save money.
2. Create a Fun Fund
With all of the stress from COVID-19, it's important to make sure you are taking care of yourself and still enjoying life during the new season. Put money aside into a fund meant for something you'll enjoy. Be sure to continue to travel (maybe not oversees but there's plenty of great outdoor travel options to continue social distancing here in the US). Another way to spend it could be renting a movie, getting your favorite takeout, buying something fun for the house and so on.
3. Collect Change & Loose Bills
You've heard about this before, but have you actually tried it? By collecting any change and loose bills you have lying around the house, in a purse, in your pockets, and so forth, you'll begin to accumulate more than you realize. You can place a mason jar in your laundry room as a reminder to check for change there. Then use the savings for something special, whether it be your fun fund, child's savings or a new pair of shoes.
4. Download a Savings App
By utilizing your online and mobile banking account features to stay on track of finances and also downloading a saving or budgeting app, you'll be more connected on where you fall each month with your finances. There are many apps available that allow you to organize and plan out your expenses and savings. This will help those who have a hard time saving or sticking to a budget, as it will make you more accountable.
5. Inspect Your Home
By making any needed updates to your home, you'll be sure things are running smoothly as the warm weather begins to come. Check your A/C, look for leaks on your roof, add insulation to the attic and so on. By making sure your home is in tip-top shape for the spring and summer, you'll help avoid any random costs that may pop up in the future regarding updates or fixes.
6. Make Use of Your Tax Refund
If you received a tax refund, try not to spend the money. Put it into a savings or retirement account to help set you up for future success. If you don't really need that money, be strict with yourself to not dip in and use it.
We hope you found one or two helpful ideas that will encourage you save this season! If you're looking for help, we have the products and professional experience to find the perfect solution for you.