Budgeting Basics: How to Save on Inconsistent Income
Posted On: June 3, 2019 by The Middlefield Banking Company in: Budget Savings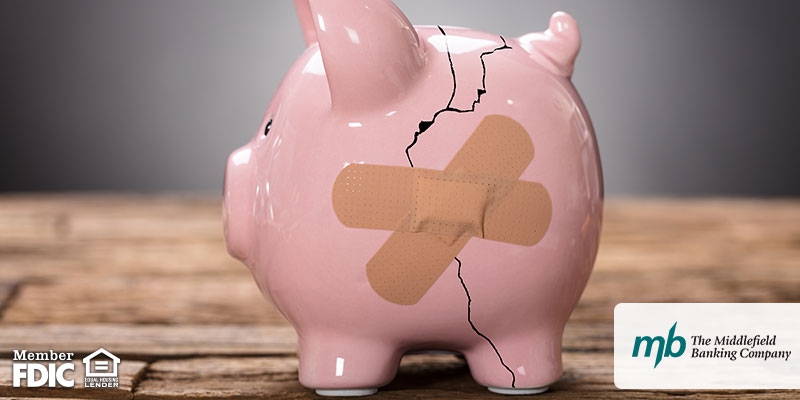 While budgeting for a fluctuating income can be difficult, The Middlefield Banking Co. is here to help offer a few strategies to lessen the madness. Finding a process to help soften the blow of the months where revenue drops is a perfect solution. Check out the following rules you should follow when living on an inconsistent income.
Know Your Baseline
Always having an idea of your lowest point for income will help you prepare for the months where fewer dollars come through the door. You'll also need to know your bare-bones budget, as in how much money do you need that month to make it through - like groceries, utilities, rent, childcare and so on. By knowing the minimum amount of money you need, you'll be able to compare that to the minimum amount of money you'd potentially make that month. This will help you know what costs to cut, so you can break even!
Build Your Rainy Day Fund
Your emergency fund is there for times like this. If your income is fluctuating, you will need to prepare for the unexpected. The general rule of thumb for your rainy day fund is to accumulate three to six months of living expenses. Work on building up to the six months, and then add a little more for a buffer, in case your income is lower for a longer period of time than expected. This will save you from having to dip into a savings account if a large expense comes your way.
Give Yourself A Grace Period
It takes time to get into the budgeting rhythm, so don't give up the first month if you don't hit your goals. Keep your eyes on the prize and learn from your budgeting mistakes. If your income is unpredictable, it doesn't mean your budget has to be. Utilize apps on your phone or make an old school spreadsheet - whatever works best for you! These tools will help you keep track of expenses, so you can stay on target as the months pass.
Spend Based Off Your Lowest Paycheck
When your income fluctuates from paycheck to paycheck, depending on how many sources of income you have, try basing your budget on your lowest paycheck. This will help you learn to keep your expenses low, while offering extra cash to pay off debt or add to your emergency fund.
We hope these budgeting basics help you continue to save and stay financially sturdy with an income that rises and falls. If you're looking for a safe place to keep your savings, we have a savings account option for you! The Middlefield Banking Co. also offers different solutions to grow your money, so feel free to discover more about the benefits of banking with us.