Cheap, Fun Winter Activities
Posted On: February 27, 2019 by The Middlefield Banking Company in: Budget Family Savings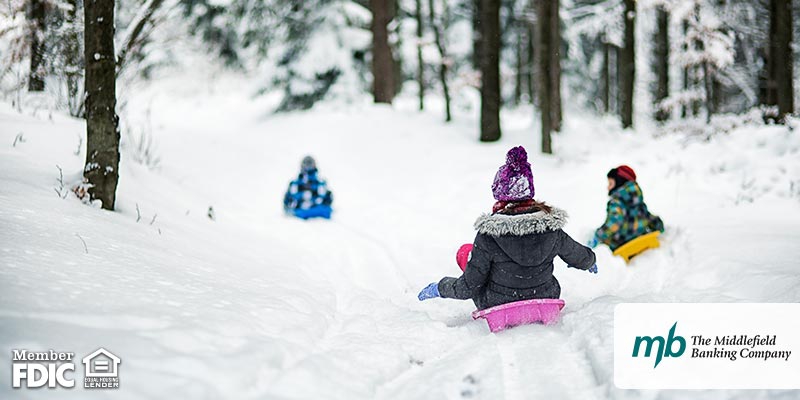 Enjoy the winter wonderland happening outside with your family! Don't stay cooped up in the house all day - find something fun to do. Create quality time with those close to you with a few of the below ideas from The Middlefield Banking Company.
Build a Snowman
Frosty isn't going to build himself. Get the kids outside and moving with this fun idea. See who can build a bigger snowman or have a competition to find out who the best fort builder is. Then, have a snowball fight! Encourage the kids to play with neighbors and invite them to join the fun.
Go Sledding
Find the biggest hill you can and enjoy the ride. Not only is this activity free, but it can be just as exciting as an amusement park ride you'd pay for - especially when you don't know how to stop at the bottom of the hill! This can become a daring adventure if your children are older because finding a steep hill will make the outing "cool" enough to your teenager.
Host a Movie Marathon
Sometimes it's just too cold to go outside. Having friends or family over to enjoy movies can be a great bonding experience. Movies bring everyone together!
Take the Family Skating
Ice skating is great for all ages. You're able to get out of the house and have fun doing something you all love. A pond can be a free option, but renting skates and going ice skating in a mall can be very cheap as well. Either way, you're getting lots of fun for a very little price.
Bake Cookies
Bonding with your kids can never go wrong when sweets are involved! Make cookies, oreo balls, cake pops and more to see who the better baker is. You could even try out new recipes you saw on the Food Network if you're looking for a challenge.
Play Board Games
Teaching your child the game of chess or another strategical game can get their brain juices pumping. Encourage your children to think before they make a move, and see how far they can go or if they can beat you.
Set Up a Savings Account
If your child is old enough to start saving, encourage them to come to the bank with you and set up a savings account. Since it's cold and there's less to do, now is the perfect time to teach them a little more about finances.
We love these cheap alternatives to having fun with your family during the cold weather. What activities do you enjoy best?