Cybersecurity Top Tips for Traveling
Posted On: February 11, 2020 by The Middlefield Banking Company in: Cybersecurity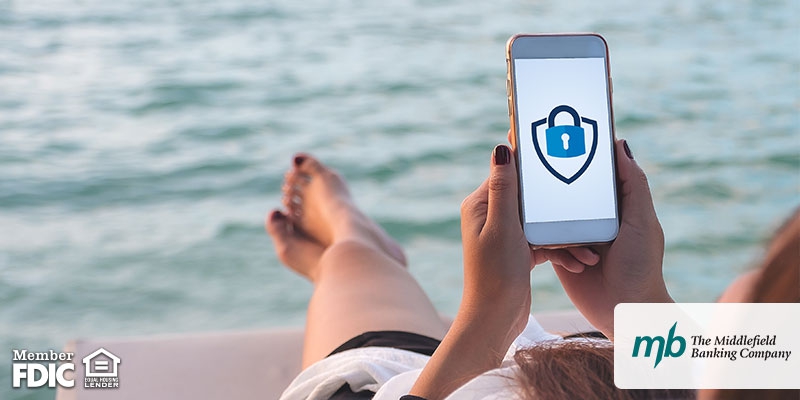 Whether traveling for fun or for work, you are hopefully busy enjoying the sights. However, it can be easy to get caught up in the adventure that you forget to stay on top of your personal cybersecurity protection. While you begin packing your bag, don't forget this list of top tips!
Update all of your devices.
You've probably made sure your devices are charged, your toiletry bag is refilled and you have new reading material for your voyage. But before walking out the door for your trip, you need to update every device you have. These periodic updates that you see from the manufacturer do more than produce slight layout changes. They protect your device by patching holes and fixing bugs in the software. If not done, your wall of protection has weak points that can be taken advantage of.
Watch out for wandering eyes.
In addition to keeping an eye out for anyone who may physically take your device or other items, watch out for lurkers. They may be looking over your shoulder or at your laptop from behind you. They'll be looking out for any information that can tell them how to enter into your device.
Always lock devices.
If you don't have a passcode on your devices, you will want to get one. Don't make it easier for criminals!
Remove auto-connect features.
Sometimes, it can be great to know that most public places nowadays have free Wi-Fi. Especially when traveling internationally, you may rely on this to send a simple text message to family back home. However, for your own security, it's most important that you disable the auto-connect feature on your Wi-Fi. You want to set up your device so that it only connects to networks that you consciously choose.
Turn off Bluetooth.
Similar to Wi-Fi auto-connect, Bluetooth should be turned off unless you are choosing to use it. The reason for this is that criminals will use this as an opportunity to connect themselves to your phone and crack into it remotely. If you're like most people, you have a lot of PII (Personally Identifiable Information) on your phone. This can be used to take your identity.
Statistics on Cybercrime
With these tips in mind, we hope you have a safe and fun travel experience!