How Much Does a Pet Really Cost?
Posted On: June 1, 2020 by The Middlefield Banking Company in: Budget Family Savings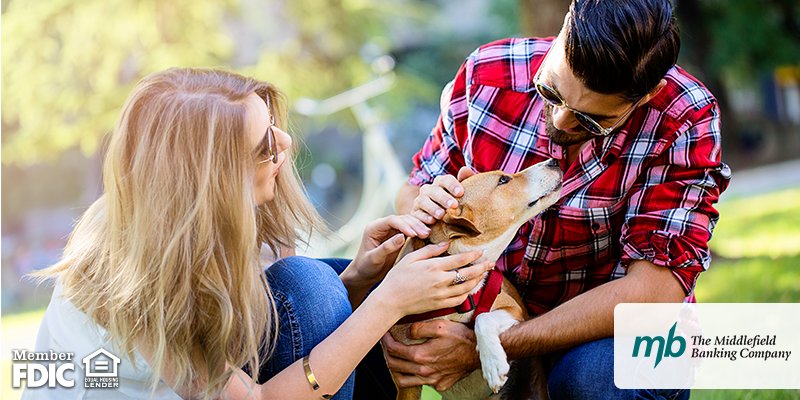 If you or someone you know has a pet, you understand there are lots of factors that go into purchasing one. How do you know if getting a furry friend is the right decision for you? Keep reading to learn about the one-time pet costs you might not have thought about.
Initial Adoption Cost
The most obvious payment you'll make when purchasing a pet is the cost of actually adopting one. What you'll spend for adoption completely depends on the breed, size, gender and type of pet you go with as well as the place you get your pet from. Buying from a breeder can cost anywhere from $300 to $1,500. If you're looking to save some money, consider adopting from a shelter as the average rescue pet costs only $70 to $300. The type of pet you are interested in completely changes the cost, so if you're on a tight budget but you really want a pet, go with something more wallet-friendly at first like a fish or a hamster.
Food
You'll start by purchasing one bag or container of food, but the money racks up over a year. For starters, an average big bag of dog food costs anywhere from $20 to $50 depending on the brand. Over the course of the year, though, the cost of food can reach $200 or $300 total. A fish, on the other hand, only eats a couple dollars' worth of food per year.
Medical Costs
There are various forms of medical attention your pet will need, especially dogs and cats. They'll need to go to the vet for vaccinations, which can cost anywhere from $50-$300. Secondly, to protect against heartworm, ticks and other things, you'll spend about $50-$100 for prevention. Getting your pet spayed or neutered costs $50 to $300, and a microchip is about $50. Some pets don't require much medical attention at all, such as a hermit crab.
Startup Items
The items to get your pet journey started could include things like toys, crates, leashes, a bed, tags, bowls, a collar, brushes, training pads and pet shampoo & conditioner. Just to give you an idea of some of these expenses, a dog bed or crate could cost $20 to $100 depending on the brand. No matter what kind of pet you get, you can't escape the startup expense. Fish and crabs need a tank, hamsters need a crate, birds need a cage… the list goes on. Some startup items are definitely cheaper for some pets than others!
If you've been looking into getting a dog, be sure to consider all of the price factors that come along with owning one. If you have always wanted to own a pet but don't have the money for the dog you've always dreamed of, the good news is that there are cheaper pets out there. Whatever you decide, do what's best for your bank account and live within your means. Not sure if you're financially ready for a pet? Give us a call - we'd love to help!