How to Save When Eating Out
Posted On: August 9, 2022 by The Middlefield Banking Company in: Family General Savings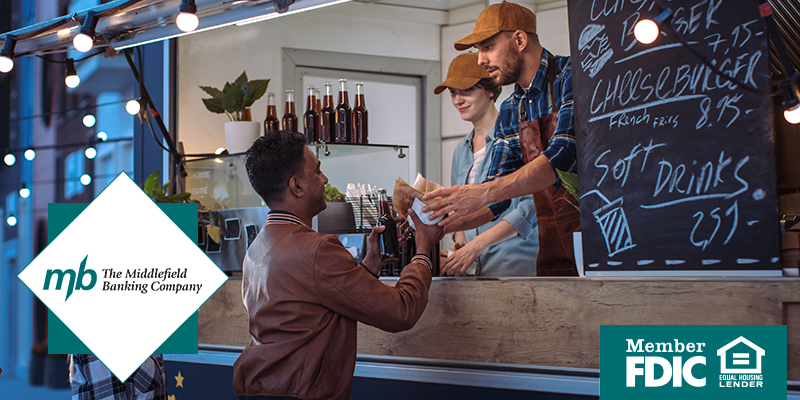 Eating out is sometimes more than just giving our body the nutrients it needs, it can be fun, different than the norm, and be a social outing. We all need to eat to live, but for those who live to eat out, here are some tips to lower your bill but still enjoy that meal out here and there.
Change Your Drink Order
As much as we all love a good fountain soda here and there, the extra money spent on coffees, tea, and soda adds up. Most of the time, water is free so if your goal is to save extra, try out water instead. A tip is to carry a water enhancer with you to add flavor or to order your water with a lemon for a citrus flavor. We all love a good cup of coffee or tea but remember you are there for the food. Specialty coffees over time add up to be just as much as a light meal.
Lunch Over Supper
This is probably a given, but we all know restaurants that have both a lunch and supper menu. Supper tends to be a much larger and more pricy meal. Lunch tends to be a lot cheaper, and you also get some extras like soup or a salad to fill you up.
Opt for an Appetizer and Share
If you are ordering off the main menu, scratch the appetizer for additional savings. If you are looking to save, sometimes splitting one or two appetizers with your lunch date can be more cost-effective than the main dish. Also peek at the side options, if you are looking for something light opt for a few sides for a low bill.
Go Out During the Week Over the Weekend
Restaurants tend to have some deals or specials they run during the week rather than on the weekend when more people tend to eat out. Earlier in the week may be your best bet for a steal as most places are looking to fill their booths. Some even have nights where the kids eat free.
Go During Happy Hour
Happy hour is a lot of fun and can be the best time to catch a bite or meet up with a friend and get the biggest bang for your buck. Many restaurants will have their happy hour menu set on their website. Whether you eat some appetizers (a great option for a large group) during happy hour to get your fix or start with something light to hold you over, try out a happy hour instead of going during mealtime.
Prioritize Your Meal Plans
If you are someone who enjoys eating out, it can be very hard to avoid it at all costs. Most people tend to really enjoy it here and there. The better you can make plans in advance and do your research, the more you will save on those one-off meals when you are truly in a rush.
Summer is right around the corner, and we tend to get busier and busier with activities and often take the easy way out for meals. Save a little extra this summer and put some thought into your eating-out routine. Try out these seven tips and tricks to avoid blowing your budget on food this summer!