Make Your Backyard Its Best for Less
Posted On: August 16, 2022 by The Middlefield Banking Company in: Budget Home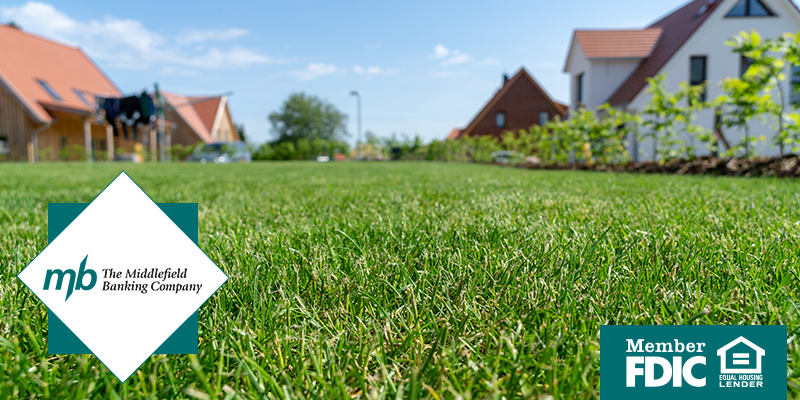 Summer is here and it's time to make your backyard its best for less! Your backyard is an investment for you to enjoy, yet have as a functional space for your family. Check out these tips to beautify your backyard but not bust your budget.
Deep Clean
Before you choose to upgrade or make any renovation, give your backyard a deep clean. There is nothing a good power wash can't make look a little better. Rake any leaves, pick up sticks, edge your landscape, sweep out the dirt, grime, and remenants of winter to clear off your space. Giving yourself a clean slate to evaluate the bones of your backyard is a great start to knowing what projects will best maximize your space for less.
One common problem can be moss/mildew stains. To remove these stains, try a mixture of white vinegar and Borax dissolved in a cup of warm water. You can also pressure wash the area and utilize bleach.
Go Green
Greenery is a gorgeous and functional way to fill up your backyard. Leafy greens are wonderful to plant within your landscaping or fill up pots or hanging baskets throughout. Lush greenery is an easy way to deck out the backyard and is fairly low maintenance.
Planting florals throughout works seamlessly with a variety of plants. If space is an issue, consider raised flower beds or gardening up with an inexpensive vertical garden. Repurposed tires can also be an inexpensive and unique way to showcase your garden.
Add Furniture
Furniture is extremely necessary to enjoy your backyard. Incorporate functional pieces to offer seating for many and storage beneath. Furniture is an easy way to incorporate some color and homeliness into the feel of your backyard.
Here's some furniture to consider adding:
Outdoor bar cart
Table and chairs
Outdoor kitchen furniture
Griddle
Fire pit
Canopy
Volleyball/ Badminton net
Picnic table and/or benches
Outdoor fridge
Rolling cooler
Hot tub
Love Your Landscape
Landscaping is huge for spicing up your backyard and making it feel clean and put together. Edging is an option to get that sharp line, but from there consider laying some new mulch or rock to fill in your flower beds. Add in some outdoor décor such as seasonal flags, gnomes, rocks, yard ornaments, or a small water fountain.
To accent your luscious landscape, consider investing in inexpensive LED lights to light your pathways. Lighting can be an extremely functional and beautiful addition to the backyard. Between lanterns, candles, hanging lights, etc., use these to your advantage to light it up and keep away those summer bugs!
Our backyards are an extension of our home, especially in the summertime. Get yours looking its best utilizing these top tips! Home improvement projects can add up – The Middlefield Banking Company is here to help with home construction loans, home improvement and more!