Money Mistakes to Avoid Around the Holidays
Posted On: November 15, 2022 by The Middlefield Banking Company in: Budget Savings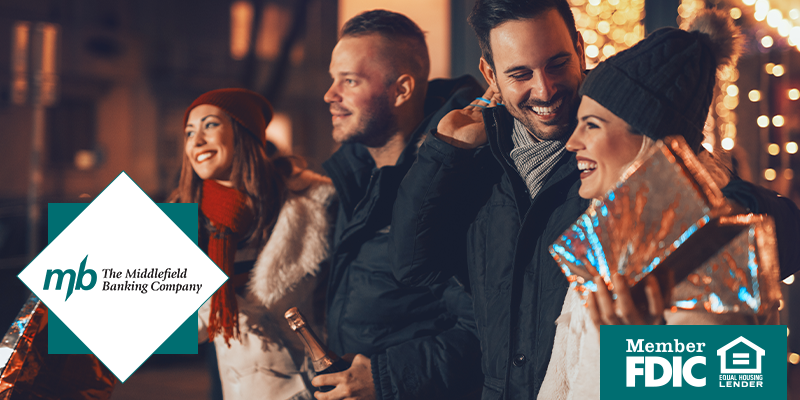 As the holiday season nears, it is important to make changes to efficiently budget for your expenses. Here are some holiday money mistakes to avoid this year so you don't have to start 2023 in financial regret!
1. Not Setting a Holiday Budget
We've all been there and unfortunately have learned from our mistakes. Not setting a holiday budget will get you quick and set you back financially if you don't better your budget. It is important to not only budget for gifts, but family events, holiday activities, supplies, and even décor. A $50 - $100 gift per person adds up fast - some of those people you're closest with even potentially getting more than one gift.
To overcome this, create a list of every person you need to get a gift for, as well as any grab bag/secret Santa gifts you know you'll be partaking in. Next, set the maximum amount you will be spending. This is completely up to you, just be sure to be realistic with your amount accounting for gifts and such. After you set a maximum holiday budget, start allocating amounts to your categories, such as gifts, activities, hosting, supplies, etc. As you do this maybe you need to remove something or adjust your budget for that category. Jot down ideas you plan to get each person as soon as you can so you have time to shop around for the best deal!
Here are some common Christmas expense categories to consider: https://bit.ly/3OCxMb0
2. Not Saving Throughout the Year
Not saving throughout the year will lead to stress, overspending, and a busted budget. To alleviate stress, start saving early by taking your budget and dividing it by the months you have until the holiday season. Doing this will ensure you are taking proper steps to reach that savings amount by the time the holiday expenses start rolling out.
If you haven't saved as much as you would like this year, don't worry! What you can do is see what you have saved, available to add to your holiday fund, and make an automatic draft from your checking account to your designated savings – possibly more than before to reach your savings goal.
3. Splurging too Much on Yourself
As much as you'd like to, don't splurge too much on yourself leading up to this holiday season. Many people end up buying themselves something for Christmas and that's completely ok! After spending money on friends and family, we all tend to find items we'd like or would like a little spoiling ourselves.
If you are thinking of buying yourself a gift this holiday season, here are a few pointers before you do so to be positive your budget is on track first.
If you see something you like, don't make a purchasing decision for at least seven days. In most cases, you'll find that your desire for that thing has gone away.
Make an honest assessment of whether you can afford the item and how it will affect your next purchases and expenses. This purchase should not set you back!
Set up savings to save up for this purchase. Wait to get it until you reach your goal.
Wait until after the holidays. Save up gift cards and cash earned to put towards it.
4. Don't Spend on Every "Good Deal"
Sales are all over during the holiday season, but it's important to not jump at every sale you see. Even though you see a deal it is still costing you money. Before you are sold on a sale item, ask yourself these questions:
If this item wasn't on sale, would you still want it?
What will you be using it for?
How will you pay for it? Does it fit in your budget?
Is there a better item to get or better use for your money?
5. Not Remembering Your Long-Term Financial Goals
Remember, the holidays are not meant to be all about money. Focus on spending time with friends and family, creating core memories. No gift is worth derailing your long-term financial goals. It is important to remember your long-term goals outside of the holidays as well as what is to come in the upcoming months. Though you may feel it is ok to splurge here and there, it is important you keep your financial stability and goals in mind with each and every purchase.
Stick to your budget this holiday season by not making any of these mistakes! If you haven't worked through your holiday budget and started saving, here is your push to start now.