Money Mistakes to Avoid Around the Holidays
Posted On: December 7, 2020 by The Middlefield Banking Company in: Budget General Savings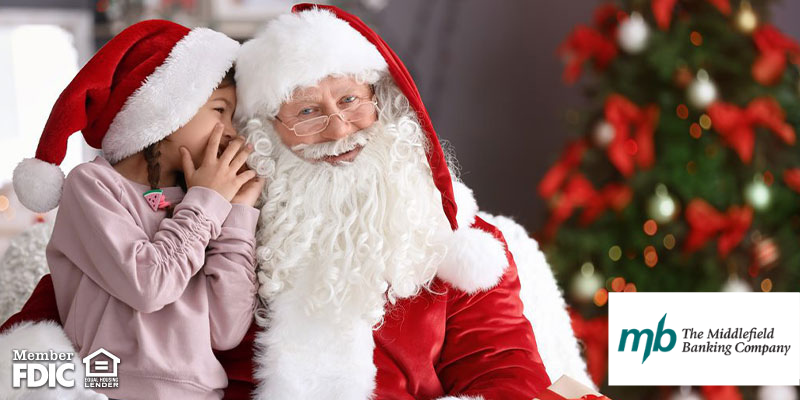 The holidays are right around the corner which means it's time to start crossing items off the gift list. Whether you've fallen victim to these mistakes before or are trying to avoid them this year, this list will tell you exactly what not to do when holiday shopping.
Not saving in advance
The holiday season has a way of sneaking up on customers, leading to lots of last minute shopping. We all are aware of when these gifts need to be bought, so why not set money aside to prepare? You can start this a few months in advance, or even better yet, save small amounts all year. Simply add a portion of your income to a savings account each month or set up automatic transfer so the funds are ready to go when it's time to shop.
Being enticed by all of the deals
It's no question that items on sale are automatically more appealing, even if the item is unnecessary. Making a list and knowing exactly what you need before you visit the store can help avoid the tempting discounted items. This is also tricky while online shopping since holiday ads pop up just about everywhere. Steer clear of the enticing deals and stick to what you really need.
Avoiding a budget
Having and sticking to a budget is simple with today's technology. By downloading a budgeting app, you can figure out exactly how much you want to spend and keep track of your spending while you shop. Not setting a budget before holiday shopping often leads to overspending, buying unnecessary items and letting your finances get out of hand.
Dipping into your savings account
Whatever you do, do not rely on your emergency fund or any other type of savings besides what you've saved specifically for holiday shopping. This is another reason why saving separately for Christmas gifts is so beneficial – you won't be as tempted to access your savings for the future if you already have money set aside.
Procrastinating
By the time the holidays come around, items have been picked through, the sales are over and what you need is out of stock. Getting your shopping done early will help you avoid those issues and save money while you're at it. It may sound crazy, but the best deals are usually happening between Christmas and New Year's, which means you can get a head start on next year while maximizing your savings!
This is the year to have control over your finances and not let the holidays take a toll on your bank account. Rather than dreading the financial burden that often comes with holiday shopping, plan ahead and save yourself the stress. Enjoy this holiday season and avoid making these mistakes at all costs!