Smart Financial Advice for Your Kids
Posted On: March 14, 2022 by The Middlefield Banking Company in: Budget Family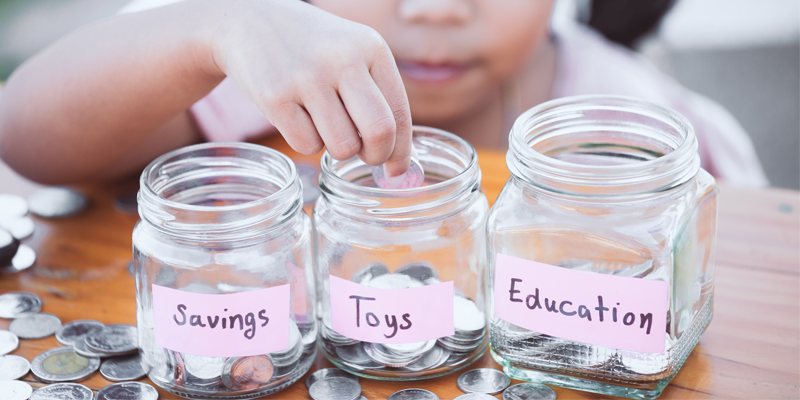 Financial literacy might be attained easier for all of us if we were taught these vital lessons in our early years. A child's view of money is formed at an early age. It is important to help your children build good behaviors and attitudes towards money as early as possible. Most kids get their own money through gifts or an allowance, so now is the perfect time to start teaching them about financial literacy.
Here are some quick and easy ways to help you start the journey of responsible money habits with your children.
Set Savings Goals and Reward Them
You can turn saving into a fun activity by setting a savings goal and trying to reach it together. To make it more fun you can use a transparent piggy bank so your little ones can watch their money grow. Making them excited about seeing their money stack up should motivate them to save more. When they reach each goal, they should be rewarded. Positive reinforcement can mold saving into a habit.
Give Them a Job
Children usually create games by pretending to have a job. They often see you doing chores and want to join in the "fun". You can give them monetary rewards for completing tasks. This gives them a sense of work and achievement. You also can turn these jobs into family bonding time. Additionally, your kids would appreciate the money more if they worked for it themselves. By allowing your children to earn cash, you are teaching them that in the real-world money is earned. If they simply are given an allowance, they begin to expect money without having to work for it.
Teach Them Things Cost Money
When you teach your children that material things cost money – and that they have to use their own money – they likely will be more sensible with their spending. When your kids have to use their hard-earned money or take money from their savings jar, they will have an appreciation of the value of money. This act will have a greater impact than simply talking about the value of money.
Also, impulse buying is a challenge even adults face. By teaching your children early to avoid this, you can help them to be financially successful in the future. A child will see something they think they really need and want now. By making them use their own money they likely will not be so quick to spend. You should suggest that you come back to the store or online shopping site in a few days to buy the item. This gives them time to decide if they really want it.
Make Investing Fun
If you have a teenager, you can teach them the benefits of investing. You can play an online virtual stock market game with a pretend portfolio. This is an activity that you can do together so you all could get the hang of investing.
It's never too early to start teaching your children money tips, and it doesn't need to be a drag. It's possible to learn and have fun at the same time.