What Does Owning a Health Savings Account (HSA) Look Like
Posted On: March 7, 2023 by The Middlefield Banking Company in: Savings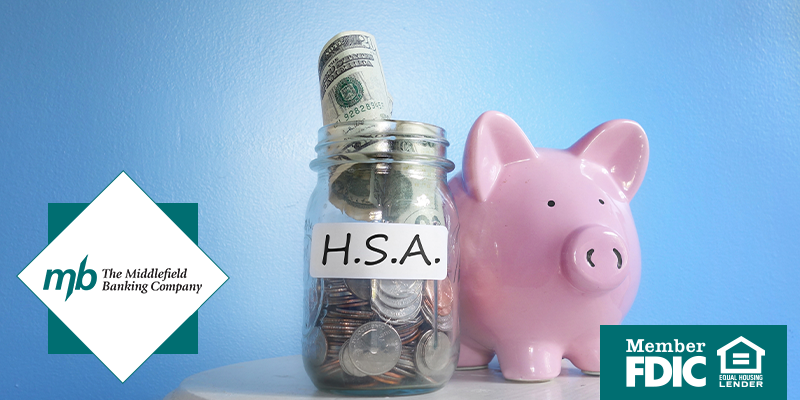 In this blog, we will outline all that you need to know about a Health Savings Account as well as the next steps to get yours started!
What is an HSA?
An HSA or Health Savings Account is a type of savings account that allows you to set aside money on a pre-tax basis. Funds in an HSA are typically saved to pay for qualified medical expenses. The untaxed dollars in a Health Savings Account used to pay for deductibles, copayments, coinsurance, and other health-related expenses help you overall lower your healthcare costs.
What Are HSA Accounts Used For?
The funds in a Health Savings Account can be used at any time to pay for qualified medical expenses. You may contribute to an HSA only if you have a High Deductible Health Plan (HDHP) — generally a health plan that only covers preventive services before the deductible. An HSA is used to help offset out-of-pocket healthcare expenses.
Who determines what is considered qualified? Typically, the IRS ultimately determines what is considered a qualified expense. When opening an HSA, it is highly recommended you speak with your employer and insurance carrier to make sure your coverage qualifies as a high-deductible health plan.
How to Get Started on a Health Savings Account
Getting started on a Health Savings Account is simple. Here are some benefits of our Health Savings Account:
The contributions that you deposit to the account can be carried over from year to year and you can continue to contribute to the account as long as you qualify.
Savings cover your deductible as allowed by the Federal Government.
This Health Savings Account moves with you, regardless of employment.
Once you apply for Medicare, the savings becomes yours.
A checkbook is issued for medical payments as necessary.
* As with all tax-related issues, be sure to consult with an accountant or other qualified advisor regarding eligibility and tax implications. All certificates, including Individual Retirement Accounts, carry penalties for early withdrawal.
Visit our website to learn more about our HSA account available. We are happy to help you get started, stop into the bank or contact us today!