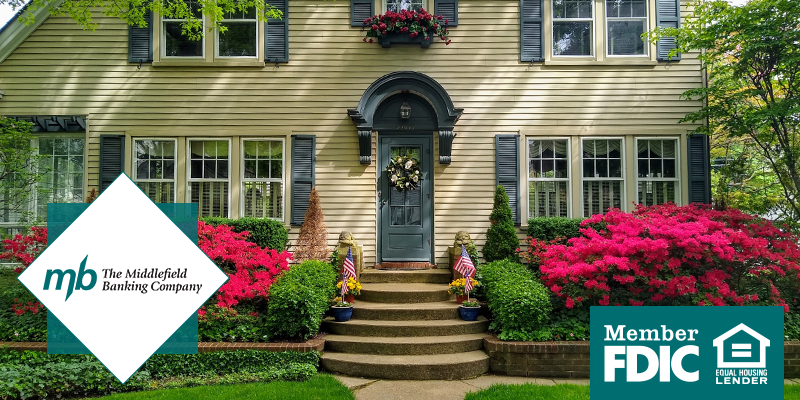 Buying a home is a major achievement—and investment! Mortgage payments help build up equity in your home over time, but there are changes and upgrades you can make to your home in order to increase its value, resulting in a bigger return on your investment.
Homeowners should look for simple, cost-effective ways to increase their home's value, especially if they plan to sell in the future. Take a look at these 5 ways to increase your home's value and get a stronger return on your investment.
1. Spice Up the Landscaping
Whether you heard it from a real estate agent or on HGTV, curb appeal matters! You want your home's landscaping to leave a good first impression—on future homebuyers and neighbors alike. Ways to improve your home's landscaping include:
A well-maintained lawn – this is one of the first things people see and is a well-rewarded investment.
Neat and tidy garden – keeping your garden tidy leaves buyers thinking it's easy to maintain, which is always a plus.
Clean and lighted pathway – having a clean pathway that's lined with pretty plants or LED lights leaves a great impression. Repair cracks and pressure wash it to remove built up dirt or grime.
2. Paint, paint, paint!
One of the most cost-effective and easiest upgrades to do to your home is to simply paint it! Adding a fresh coat of paint to each room of your house gives it a newer, refreshed look and ensures that there is no discoloration behind long-standing furniture or stains left by tiny hands. Peeling or outdated paint can be a turn-off and repainting saves the prospective buyer from having to do it themselves. Focus on painting areas like the bathroom and kitchen as those tend to have more wear. Painting the interior can result in a 107% return on investment (ROI).
3. Upgrade Your Bathroom
When searching for a home, buyers consider bathrooms as some of the most important rooms in the house. Bathroom upgrades are some of the most cost effective to upgrade and ensure you get a return on your investment. Some ways you can upgrade your bathroom include:
Repainting walls in a neutral, modern coat of paint or removing old wallpaper
Painting or refinishing cabinets (or replacing them if you have more room in your budget)
Installing matching modern hardware on drawers, cabinets and closets
Upgrading lighting, faucets, showerheads, or installing a new toilet
Cleaning everything – rid the bathroom of rust stains, scrub all the surfaces and re-caulk areas around the shower, bathtub and tile
Keep the design neutral and light so you can appeal to as many buyers as possible, colors like light blue or gray work well. If you're looking to save money by doing the bathroom upgrades yourself, plan for a few days of work. For every $1 spent on bathroom renovations, you can make back $1.71 in home value.
4. Upgrade Your Kitchen
Many consider the kitchen to be the heart of the home. Upgrading a kitchen can make a big difference for some buyers. Depending on your budget, you will have to choose between minor or major kitchen upgrades. Below, we've listed some ways you can do both:
Minor Kitchen Upgrades
Replacing cabinet doors and hardware (but leaving the box of the cabinet)
Upgrading to quartz or granite countertops
Installing a set of new matching appliances
Repainting and adding backsplash throughout
Putting in new flooring if existing is outdated, damaged or worn
Major Kitchen Upgrades
Adding an island to the kitchen
Installing fully new or custom cabinetry throughout
Upgrading to more high-end, energy-efficient appliances
Replacing flooring with higher quality options and adding or upgrading trim
Adding undercabinet LED lighting
If you're leaning toward making major improvements to your kitchen, we can help! Give us a call or contact us via our website to discuss your financing options for upgrading your home.
5. Make Your Home More Energy Efficient
Upgrading your home's efficiency can be more affordable than you think. Some of the most popular environmentally friendly ways to increase your home's value include improving heating and cooling costs, adding energy-efficient lighting and appliances, upgrading windows, doors and siding. Even adding a smart thermostat makes it easier for a homeowner to control the home's climate from anywhere and allow them to manage their energy costs more easily. Home tech investments can provide a strong selling point for your home and increase its overall comfort, convenience and functionality.
Some upgrades, such as installing solar panels, are more of an investment and you may need to consider financing options to make this upgrade happen.
How Do I Pay for Improvements?
There are several routes you can take when upgrading your home. For upgrades that need to be done professionally, or those you cannot pay for in cash, there are several financing options available.
Credit Card – This option may work for you if you are able to pay off the home improvements in a short amount of time.
Personal Loan – A personal loan is a great option if you don't have enough equity built up for a home equity loan or HELOC. These loans don't require you to put your home or other property up as collateral to get approved. The interest rate for a personal loan will be higher than a home equity loan, but lower than a credit card in many cases.
Home Equity Loan or HELOC – A home equity loan is similar to a personal loan in that you receive a lump sum of cash with a fixed interest rate and monthly payment. A home equity line of credit (HELOC) works like a credit card and comes with variable rates and a line of credit that you can borrow against.
If you're ready to spruce up your home and increase its value, give us a call, apply for a loan or credit card on our website or schedule an appointment with our team to further discuss your options.